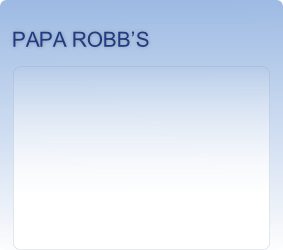 3700 POPLAR TENT ROAD AT EVA DRIVE, CONCORD, NC
PHONE: 704 652-PAPA(7272)
INFO@PAPAROBBS.COM
A Special Treat for the Family















MISSION STATEMENT
To serve quality products in a safe, all inclusive, family-friendly atmosphere.
Papa Robb's Paradise ice is unique and special in many ways -------
* A variety of Tropical Treats
* Special events and activities
* Safe, fun, comfortable facility for the entire family
* A playground for children
* A party center for all occasions
* Welcoming place for the entire community
Visit Today -- You will find it hard to leave. Papa Robb's Paradise Ice - Your home away from home

Tuesday - Sunday, 1 pm - 8 pm.
Closed Monday